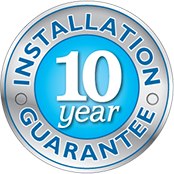 10 Year Installation Guarantee
Wetrooms UK have been installing wetroom and waterproofing solutions into residential and hotel construction projects across London and the South East for over ten years. Our expertise is based on over 30 years' experience in the waterproofing industry. We offer our clients a full service solution that covers all aspects of wet room design, manufacture, installation and after sales service. We ensure rigorous quality controls are adhered to throughout the installation process, including regular site inspections, flood testing and on-site training for associated trades. Not only does this provide our clients with peace of mind throughout every step of the installation process, but enables Wetrooms UK to issue our unique 10 year installation guarantee on every wetroom installation. With over 2000 guarantees issued every year, you can be confident that a wetroom installation from Wetrooms UK will look and function like new for years to come.
CHAS Accreditation
Wetrooms UK have been awarded CHAS accreditation. Construction site Health & Safety guidelines and legislation are in place to protect not only our employees but all persons on a construction site. By passing the extensive CHAS compliance process, Wetrooms UK are able to demonstrate to all Contractors and Developers that we adhere to strict Health & Safety policy and procedures and are mindful of managing risk to protect each and every site operative and visitor, within the parameters of our control as a sub-contractor to Main Contractors.